Three steps is all it takes…
for DSync to synchronize your files.
Select the folders, compare them, synchronize them.
After spending years trying to use tools that are too complicated, create hidden files or just too limited, we've developed DSync – the easiest way to synchronize files on Mac.
Synchronize your Mac folders and disks
Fast and easy to use. Advanced features.
With the advanced algorithms in the latest version of DSync, synchronizing large folders with many files won't be a problem.
You can even fine-tune your synchronization by skipping, deleting of reversing the copy direction of the files you choose to.
Synchronize the cloud
Use a cloud service? We support it!
DSync integrates nicely with macOS, allowing you to select cloud folders in addition to local and network folders. Use iCloud? Select the iCloud folder. Use DropBox? Select the DropBox folder. It's as easy as that.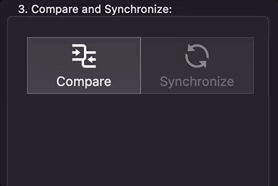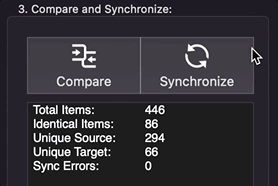 Can it really be that easy?
Sure it can – with DSync, the best macOS software to synchronize your files, folders and disks.
Frequently Asked Questions
What are you waiting for?
Get DSync Today!